Page 2 sur 2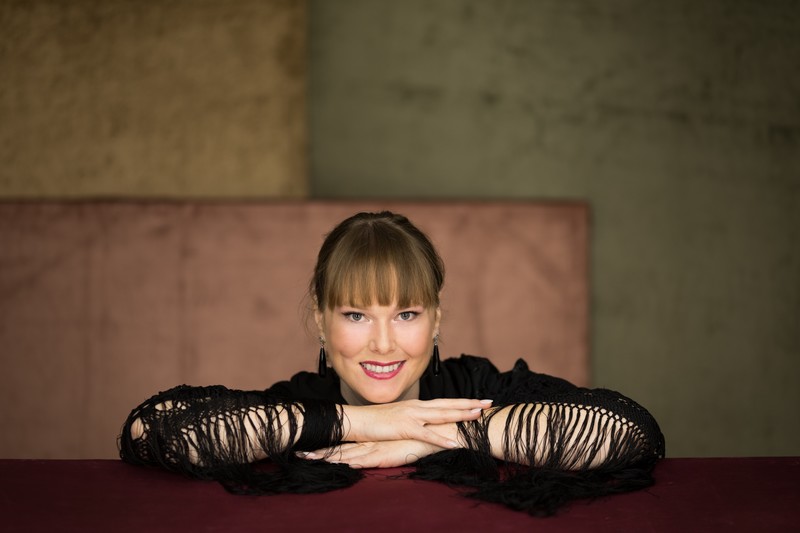 Photo Alessandro Moggi
Good morning Jessica,
We take the opportunity of your participation to the festival Donizetti de Bergamo to ask you some questions. You are performing Elisabetta in 'il Castello di Kenilworth', an unknown work of the composer. You return to this place after a noticeable 'Rosmonda d'Inghilterra' in 2016. After Mariella Devia who sang in 1989, participating in the recreation of this work, you are continuing the rediscovery work on the belcanto repertoire initiated by singers like Maria Callas, Joan Sutherland or Beverly Sills.
Yes, there is a version of 'il Castello di Kenilworth' available with Mariella Devia but similarly to what we had with 'Rosmonda d'Inghilterra', the available recorded version is different from the version we are doing. Donizetti was a very prolific composer and many of his operas where rewritten and adapted by himself according to the available singers. It is quite common to find two original autographed scores with serious differences. I haven't listened to the recording because I prefer not to be influenced by other interpretations during the learning phase but someone at the general did tell me that some parts of the recording are three semitones lower. I don't know if this true but it must be in some ways different.
I enjoy discovering rare operas and bringing them to the public ; there are so many gems in this repertoire especially when it comes to Donizetti. In the Rossini repertoire the Rossini Opera Festival did such a fabulous job, rediscovering unknown operas, creating critical editions, thus bringing these works to the public and creating a school of training for Rossini. As a result we see these operas being performed more often all over the world. I hope that the Donizetti festival and Ricordi will continue this musicological path in Bergamo, eventually reviving and publishing all the Donizetti Operas. There is a barrier to discovering much of this repertoire when the scores are not easily available. We are very much at risk of just repeating the same five operas all the time and I don't think it's healthy. It is actually killing opera by making it repetitive routine and not artistic engagement.
I have debuted over thirty roles, some of which I will only sing once. 'Il Castello di Kenilworth' might be one of them. Every time I learn a new piece of rare music somebody tells me that at this point, I could only stage Puritani, Lucia, Rigoletto, Traviata and Sonnambula and have an easy life.
But I disagree … It is not time lost when you preparare an opera, regardless of its rarity since each one teaches you something. Every opera poses a challenge of its own which then informs and enriches you. It's then easy to bring these new skills in other operas and performances. I see it as a whole path towards an artistic growth.
'Il Castello di Kenilworth' is an interesting example of a forgotten opera. It has become very popular to perform the 'Donizetti Tudor trilogy' but in reality it would make more sense to pick the Elizabeth trilogy. 'Il Castello di Kenilworth' is the first of Donizetti's Tudor Operas and along with 'Maria Stuarda' and 'Roberto Devereux' its main subject is Elizabeth... one could argue for an Elizabeth trilogy and 'Anna Bolena' as a prequel! The soprano for whom 'Elisabetta nel Castello di Kenilworth' was written was famous for her Semiramide. And for me, coming exactly from Semiramide, vocally I found the part very comfortable. If I had been coming from a lighter role like Sonnambula, it may have been more challenging. Trying to programme the right roles together over the year can really help a lot to avoid vocal stress.
Do you have a different approach for a work that very few people know compared to well-known ones like 'Lucia di Lammermoor' for example ?
I perform Lucia about two to three times a year and after twenty nine productions and hundreds of performances I can still say that it never bores me. Every time I sing the role it makes me happy. It was the first role I ever sang and it's a little like going back home. When I watch myself in some old recordings I see all the things I have learned to improve. My Lucia today is enriched by my experience.
On the other hand, when I debut a rare opera that only one or two colleagues have sung in modern years, I can't obviously benefit from my personal experience and there is no common/traditional way to interpret the role. It's a clean slate, a canvas where you can really express yourself to an audience with no preconception. I find the result more intimate and very satisfying even if the lack of confidence in the role makes it more frightening.
Places matter. Does singing this work in Bergamo have any special meaning for you ?
I love it ! The great thing about Bergamo is to sing in the theatre of Donizetti's home town. It's a special feeling that I had also in Napoli when I sang Lucia in the theatre for which it was written or similarly, Semiramide in Venice. It's a great honour and I hope that the festival grows to the point where they can start publishing the work and doing the critical editions like the Rossini festival did. 'Il Castello' is not an easy opera for a theatre to produce because you really need good singers. The main four parts are extremely hard. We are all very impressed by the festival's ability to cast all the singers so perfectly suited for the main roles.
Photo Yasuko Kageyama
When looking at your parts, we have the feeling that there is on one side belcanto and on the other all the rest, like the queen of the night and Zerbinetta ...
It's a little bit of curiosity for the other genres. As a young singing student I did a lot of different repertoire and very little bel canto. It's a part of my early formation as a musician and I feel I want to explore it occasionally. That said, Belcanto is my home and I feel I can artistically give the most in that field.
I heard you recently in the wonderful 'Semiramide' of La Fenice in which you have been remarkable. This production was ideal and will mark the history of this opera (complete version, intelligent and beautiful staging, exceptional vocal team, magnificent conducting). Can you tell us how you lived this adventure ?
I was so happy. We had a lovely group of people and wonderful singers and I really felt that we got the chance to make music and make art and that is not something that happens often. This career can be extremely frustrating. Sometimes I have to sit down and tell myself that I can't expect to have a production like that on every engagement. When I posted the pictures of the production the first week, Chris Merritt came on the website and said « finally a production !!!» (laughs)
Elvira, Lucia, Semiramide ... While shining in all these roles, what differences do you feel in the music of Bellini, Donizetti and Rossini ? Are there any difficulties navigating between these different pieces ?
They are my three favourite composers obviously. I feel immediately comfortable in Donizetti's operas. With Bellini, I have to work very hard on the legato to bring out the melancholy that is so present in his style and the expression of this is often in the middle voice with a very long drawn out line. In the beginning of my career this was very hard to learn. Rossini has instead his famous crescendo finales that are so fun and exciting to sing. He also tends to use a lot of coloratura di forza. Very different, for example to Bellini's coloratura which is never quick or flippant and always needs to be smooth and legato. Donizetti's coloratura on the other hand is a combination of the two. I know Bellini did not respect Donizetti but Donizetti was a huge fan of Bellini and really admired him.
Are there parts of these three composers that you would like to sing of but which require from you more time to prepare them?
You are thinking Norma right? (Laughs).
Maybe later ?
Yes, absolutely. The voice is always changing and growing. I have more control in the center now and I'm more comfortable singing a little lower. It doesn't mean I will lose the high notes but, for example, I didn't feel comfortable in the middle and low range seven years ago. I am probably a little bit the opposite of everybody else right now who seem to want to sing bigger roles than they should while I want to sing smaller roles than I perhaps should. It's better to be careful: when it comes to more dramatic or more lyric repertoire, I like to try the role and then leave it for a couple of years. Then when I feel like my body is ready for another attempt at it, I add some little experience and build a knowledge of the role.
Maybe it's good to try in small theatres ?
Not just small, better something small and far away from Europe! (Laughs). I debuted Traviata in Australia and Norma in China years ago and have still not sung either in Europe.
Your career takes place mainly in Italy, a little in Spain. We have the impression that the tradition of bel canto is much more present there than in other countries like France (exceptions made of opera houses like Marseille). What do you think ?
I haven't sung much in France but I will debut Zerbinetta in Toulouse and return to Marseille with more bel canto in the future seasons. I feel the same audience response in Spain as in Italy. So far I have found the French audience very receptive to the genre. When I performed Lucia for my debut in Paris, the audience in Theatre des Champs Elysées was just as impressive as an Italian audience: they were attentive and friendly and you could feel their enthusiasm from the stage. It was a really nice experience. In Marseille, the public goes crazy for this repertoire. We performed four concerts of Semiramide, it was a full house every night and nobody left at the interval! It started at 8 pm and finished at 12:30, we were exhausted at the end of the evening and the audience was still sitting there. I was very impressed (Laughs).
My engagements in France are increasing over the next five years, I will return to Paris and Marseille and will make my debuts in Toulouse with Zerbinetta and Bordeaux with 'Les Contes d'Hoffmann' under the direction of Marc Minkowski after having debuted the four heroines with him in a concert version in Bremen this year.
You have to come at the Paris opera house ! But it's always difficult to have bel canto there. With all the directors, Nicolas Joel or Stephane Lissner, it is the same. You could have Semiramide for example and Meyerbeer also. I saw you sung 'l'Africaine' in Venice and it was great.
Yes, 'l'Africaine' is very beautiful. I would love to debut more Meyerbeer operas. Les Huguenots is on my wish list along with 'Il Crociato in Egitto' and 'l'Etoile du Nord'. As for Massenet I will debut 'Esclarmonde' within the next five years too.
You have a very good festival Massenet in France, in Saint-Etienne. We send them the message.
And then you obviously participate regularly in productions in Australia ...
My parents live there and my brother and sister as well. I can see my nieces when I perform in Australia. It's important for me. Australia produces a lot of very good singers but we all tend to leave because there is only one full time opera house and it makes for a difficult environment in which to build a career if one wants to specialise in a particular repertoire. I had to leave. The beauty and the difficulty of Australia is its physical isolation: a 24 hour flight away from Europe and 17/20 from America. You can't be jumping in productions in Europe at the last minute from Australia and it is one of the best ways to start a career. I jumped in so many times in Zurich, in Italy and all over Europe and that's how I started. Basing myself in Australia I couldn't have done that.
When I arrived in Italy the first opera I saw in Rome was 'Tancredi' with Mariella Devia, Daniella Barcellona and Raul Gimenez, with Gelmetti conducting and Pizzi staging. I immediately realised I just wanted to sing like that.
At that point I did not really know what to do. I was singing Strauss, Mimi and the Queen of the Night in the same opera competition ! I was all over the place.. « la mamma morta » was my big thing.. and « Visse d'Arte » .. (laughs).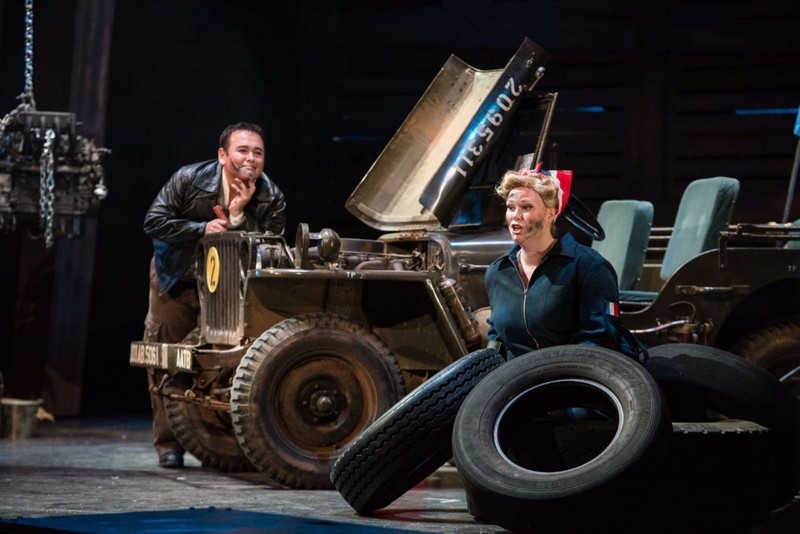 Avec Javier Camarena (Photo Nacho Gonzalez)
You performed an extraordinary Lucia at the Metropolitan Opera with Vittorio Grigolo. What is the difference between singing in such a large house (where we can surely meet numerous colleagues in the backstage) and smaller operas where there is only one production at the same time?
Strangely enough given the size of the auditorium I find the acoustic is actually easy at the Met. It's not what you would think. On stage, there is a nice return. I feel very comfortable there, I discovered this when I debuted there with the Queen of the Night. In a repertoire production at the MET, you don't get much time on stage, you only have an orchestra rehearsal and the general and that's it, the bulk of the rehearsals are done in rehearsal rooms. In the Julie Taymor production, the Queen is on a high platform in the back of the stage which rotates around during the introduction Music. I was on this platform and as it turned around and I suddenly saw that 'big cave' I thought 'what I am going to do ? ' (laughs), and then I sung and it was not so bad!
The only thing I felt this time with 'Lucia' is that I cannot do quite as many colours and pianissimi as I would like. I had to sing louder than I usually do. However that may have just been my perception as I didn't have much experience of the acoustic on that production, being in the second cast and having already performed Mary Zimmermanns production at La Scala in Milan. I did not have any stage or orchestral rehearsals in New York so the first time I sang with the orchestra, in the costumes and on the set with my colleagues was at the performance ! So not knowing how much I could play with the colours and the dynamics I decided it was better to sing a little louder just in case! Of course the chorus, orchestra and everyone back stage are fantastic and it is a very nice atmosphere to work in. I will be returning for a role debut in a couple of years.
I recall that three days after the last Met's performance of Lucia you were on stage in Palermo for singing 'I Puritani'. How do you manage such a challenge or stress, knowing that in addition you had to deal with a time difference?
That was crazy ! They had a cancellation, it was an emergency. We couldn't find direct flights to Palermo at such late notice and had to book a number of flights (NY – Paris – Milano – Roma – Palermo) to arrive ! Just after I had accepted I was told they where doing the integral edition, a critical edition with the new duet. I had to learn it on the aeroplane but thankfully I had lots of time on all the different flights. I like Puritani very much but it is less popular than 'Lucia' with the theatres because it is harder to find the tenor.
I would like to see you in Puritani.
I will perform it in concert in France soon!
I was talking earlier about your predecessors in the bel canto repertoire. Which singers have been, or still are, sources of inspiration for you ?
I don't listen a lot to opera because I don't like it at home. I prefer to listen to it live in the theatres. Also, the voice repeats what it hears. Listening too much of some singers can have you copy their style as much as their flaws. But this can also be a good tool, I find that listening to certain Sutherland recordings and Fritz Wunderlich for example can have a relaxing effect on my chords.
That said, I originally fell in love with opera because my dad bought me a CD of Callas. I think I was fifteen when he gave it to me. I shut myself in my room and I just listened to it over and over and over again, all day long. Just for the emotion in her voice which was so beautiful ! When I was really young I gave an interview and I said very naively that I wanted to be a cross between Sutherland and Callas (laughs). I also like Nelly Melba and Galli-Curci (we had a gramophone at home, so I listened on gramophone records). It is interesting to see how the style of singing changed so much : Galli-Curci and Melba really used chest voice a lot whereas nowadays we tend more to use a mix of chest and head. And of course they didn't sing loud, they almost sang in falsetto on top ! Now we sing the high range in full voice.
I remember reading a letter that Nelly Melba's teacher wrote her when she went singing in Paris : « well, I hear that you are indulging in the fashionable shouting type of singing and I hope you stop this and sing properly again ». There had been a change in technique: people started to sing louder and they started to sing the top notes in full voice, whereas before they were singing piano. Nelly Melba was in Europe, she was in Paris and was hearing this, she did it herself and had a huge success! I'm very serious when it comes to the technique but I also think it is important to respect the public and their expectations ! You can't really say 'I am going to sing Semiramide like it was sung when it was written' because nobody would hear you over a big modern orchestra in a huge hall with extra white noise from the lights, the air conditioning etc. You have to sing louder. There is no option.
Most of the roles you play are in Italian, some in German; there are few in French. Do you have any others projects in the French repertoire?
I'm working on my spoken french. It really helps to speak the language you sing in: when you forget the words you can at least invent something plausible (laughs). In French I've sung Eudoxie from 'la Juive', Mathilde from 'Guillaume Tell', Ines from 'l'Africaine', Gounod's Juliette, Adele from 'le Comte Ory' (I would love to do that again soon) and Marie from 'la fille du régiment'. And also as I said Olympia, Antonia, Giulietta and Stella from 'les Contes d'Hoffmann'. I had a very positive experience with Minkowski in relation to the language. He was very helpful with the French giving me tips on how to pronounce words correctly so that they would both travel in the hall and be correct at the same time; I'm really looking forward to having a whole staged production with him because we will have more time to work intricately on the music together. Offenbach's masterpiece appears multiple times in my future calendar but I can't be specific yet.
Can you tell us about your future projects or parts ?
The highlight of the next season is my recital in Milan on May 20th. A solo recital at La Scala is still one of the most prestigious achievements for an opera singer and I'm humbled by the opportunity. I'm working on the program these days. There are also similar recitals scheduled for Palermo and Napoli as well as an orchestra concert of mad scenes in Bilbao that we appropriately titled "Delirio". Right after that I have scheduled a recording with Maggio Musicale and Riccardo Frizza which hopefully will be out by the end of the year. It's a big year!
Thank you very much Jessica. We look forward following you in these projects.
Interview conducted on November 23, 2018 by Paul Fourier